R12 Installed base Setups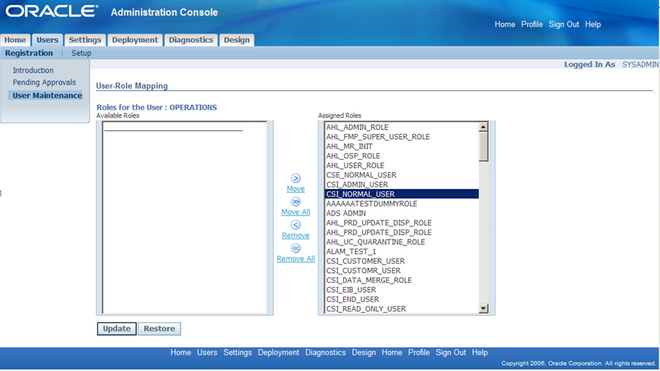 All All the functionalities of installed base module can be accessed with Installed Base User responsibility. And to access the' Installed Base User' responsibility' the user must be assigned to CSI_NORMAL_USER role.
Follow the below setups to assign the required roles to Installed Base Users
1. Login to the instance with sysadmin user and select CRM HTML Administration responsibility
2. Navigate to Setup : Users : Registration: user Maintenance
3.  Query the user name, click on the hyperlink for the user
4.  Add the CSI_NORMAL_USER role. Update.
The responsibility "Install Base User" is obsolete in Release 12.  The new responsibility is called 'Oracle Installed Base Agent User'
Notice that the Role assignment via CRM HTML administrator is for Oracle Installed Base User responsibility (ie. JTT page). Oracle Install Base Agent User responsibility is a new one in R12.
Profile Options
The Important Profile Options which needs to be set at the site level are
Service: Inventory Validation Organization
CSI: Default Instance Status
http://www.oracleerpappsguide.com/wp-content/uploads/2016/09/New-Logo.png
0
0
Oracle ERP Apps Guide
http://www.oracleerpappsguide.com/wp-content/uploads/2016/09/New-Logo.png
Oracle ERP Apps Guide
2011-11-19 00:09:00
2016-09-22 12:00:53
R12 Installed base Setups