The Worklist pages let you view and respond to your notifications using a Web browser. The Advanced Worklist provides an overview of your notifications, from which you can drill down to view an individual notification in the Notification Details page. You can also reassign notifications to another user, request more information about a notification from another user, respond to requests for information, and define vacation rules to handle notifications automatically in your absence.
Oracle Workflow also provides the Personal Worklist, which includes additional options to specify what notifications to display in your Worklist and what information to display for those notifications. Before you can use the Personal Worklist, your system administrator must give you access to it.
Worklist Access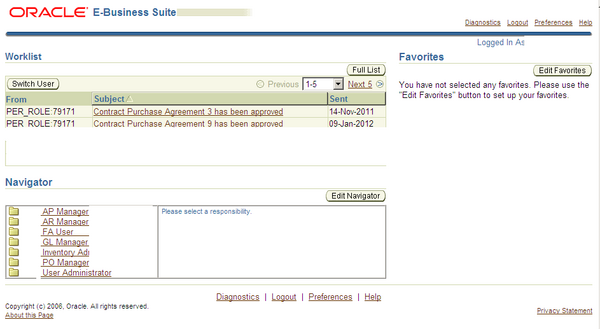 The Advanced Worklist also lets you grant access to your worklist to another user. That user can then act as your proxy to handle the notifications in your list on your behalf. You can either grant a user access for a specific period or allow the user's access to continue indefinitely.
The worklist access feature lets you allow another user to handle your notifications without giving that user access to any other privileges or responsibilities that you have in Oracle Applications. However, note that a user who has access to your worklist can view all the details of your notifications and take most actions that you can take on the notifications. Ensure that you take all necessary security considerations into account when you choose to grant worklist access to another user.
Advantages

If another user has granted you access to his or her worklist, you can switch the Advanced Worklist to display that user's notifications instead of your own. When viewing another user's worklist, you can perform the following actions:
View the details of the user's notifications.
Respond to notifications that require a response.
Close notifications that do not require a response.
Reassign notifications to a different user.
Request more information about a notification from a different user.
Respond to a request for more information.
Limitations

If the user whose worklist you are accessing has a notification sent from you, you can only view that notification and cannot take any action on it. For example, you cannot respond to a notification that you reassigned to the other user, nor to a notification marked as being sent from you by special logic in the workflow, such as an expense report that you submitted to the other user for approval.
You cannot define vacation rules for the user whose worklist you are viewing. You also cannot grant access to that user's worklist to anyone else.
http://www.oracleerpappsguide.com/wp-content/uploads/2016/09/New-Logo.png
0
0
Oracle ERP Apps Guide
http://www.oracleerpappsguide.com/wp-content/uploads/2016/09/New-Logo.png
Oracle ERP Apps Guide
2011-03-02 23:45:00
2011-03-02 23:45:00
Worklist & notification