Specifying Alert Details in R12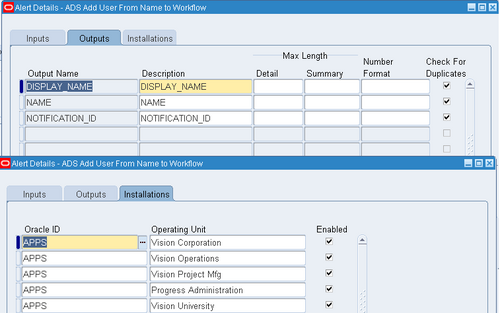 Once you define an event or periodic alert in the Alerts window, you need to display to the Alert Details window to complete the alert definition. The Alert Details window includes information such as which Application installations you want the alert to run against, what default values you want your inputs variables to use, and what additional characteristics you want your output variables to have.
In the Inputs tabbed region, Oracle Alert automatically displays the inputs used in your Select statement, unless they are the implicit inputs: :ROWID, :MAILID, :ORG_ID and :DATE_LAST_CHECKED.
The values of the implicit inputs are as follows:
• ROWID-Contains the ID number of the row where the insert or update that triggers an event alert occurs.
• MAILID-Contains the email username of the person who enters an insert or update that triggers an event alert.
• ORG_ID-Contains the organization ID that is selected when the alert runs.
• DATE_LAST_CHECKED-Contains the date and time that the alert was most recently checked
http://www.oracleerpappsguide.com/wp-content/uploads/2016/09/New-Logo.png
0
0
Oracle ERP Apps Guide
http://www.oracleerpappsguide.com/wp-content/uploads/2016/09/New-Logo.png
Oracle ERP Apps Guide
2011-11-15 00:07:00
2011-11-15 00:07:00
Specifying Alert Details in R12