Creating and Updating Registration Processes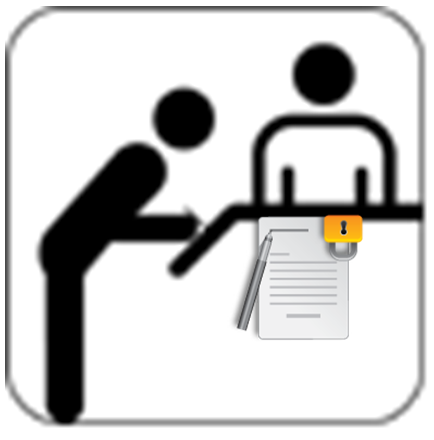 Registration processes are predefined registration components that enable end users to perform some of their own registration tasks, such as requesting new accounts or requesting additional access to the system. They also provide administrators with a faster and more efficient method of creating new user accounts.
Oracle User Management provides four types of registration process:
Self Service Account Requests
Self-Service Requests for Additional Access
Account Creation by Administrators
Administrator Assisted Request for Additional Access
Steps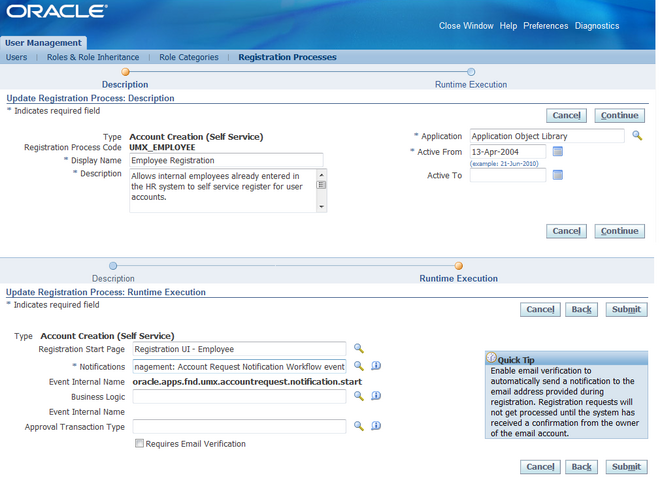 Registration processes all use the same infrastructure and processing logic. Steps for defining a registration process will vary depending on the type of registration process you are creating.
1. Log on as a user that is assigned the Security Administrator role (typically as sysadmin), select the User Management responsibility in the navigator and then click the Registration Processes subtab.
2. Click the Create Registration Process button.
3. Enter the required information for the Registration Process Description and click the Next button.
4. Enter the runtime execution information for the registration process and click the Next button.
5. Enter the eligibility information for the registration process by selecting the appropriate roles or groups from the Available Groups column and clicking the Submit button. For Self-Service Requests for Additional Access, eligibility defines the users who are able to register for the role associated with the registration process. For Account Creation by Administrators, eligibility determines what administrators can register new users through the registration process
6. Register subscriptions to the appropriate business events raised by Oracle User Management, and ensure that your subscription logic writes the registration data into the appropriate destination schemas.
7. Optionally update the registration process by searching for it and clicking the Update button in the search results page.
http://www.oracleerpappsguide.com/wp-content/uploads/2016/09/New-Logo.png
0
0
Oracle ERP Apps Guide
http://www.oracleerpappsguide.com/wp-content/uploads/2016/09/New-Logo.png
Oracle ERP Apps Guide
2012-01-03 13:03:00
2012-01-03 13:03:00
Creating and Updating Registration Processes