Oracle Applications Manager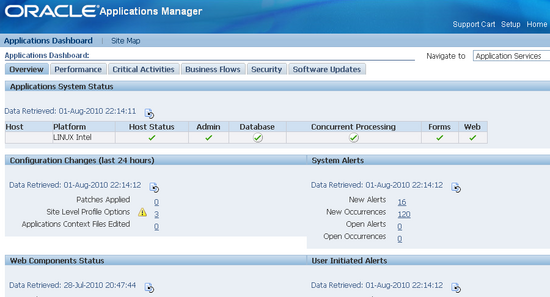 Oracle Applications Manager (OAM) allows administrators to manage Oracle E-Business Suite systems from an HTML console. Utilities available from OAM include Oracle Workflow Manager, Patch Wizard, and Concurrent Processing monitoring tools.
With Oracle Applications Manager, system administrators can view information on general system activity including the statuses of the database, concurrent managers and other services, concurrent requests, and Oracle Workflow processes. OAM provides a summary of configuration changes, infrastructure usage, performance, required
maintenance activities, potential security issues, status of business flows, and diagnostic test results. In addition, they can manage downtime and patching. System administrators can also start or stop services, and submit concurrent requests.
Using Oracle Workflow Manager, administrators can control Workflow system services, such background engines, the Notification Mailer, agent listeners, queue propagation, and purging obsolete Workflow data. OAM utilities are generally available from two main screens: the Applications Dashboard and Site Map
Oracle Applications Manager uses with Oracle Application Object Library's function security model. You can create custom responsibilities and menus to control access to specific OAM features. These features can thus be directly available from the E-Business Suite Home Page.
http://www.oracleerpappsguide.com/wp-content/uploads/2016/09/New-Logo.png
0
0
Oracle ERP Apps Guide
http://www.oracleerpappsguide.com/wp-content/uploads/2016/09/New-Logo.png
Oracle ERP Apps Guide
2012-01-02 22:18:00
2012-01-02 22:18:00
Oracle Applications Manager