Defining Data Security Policies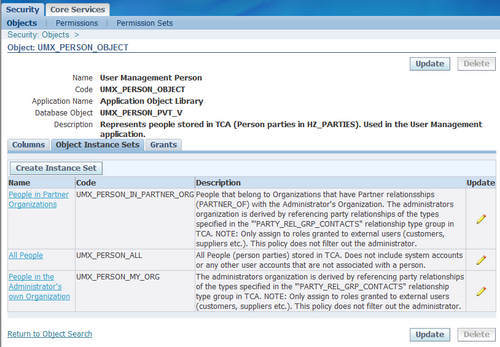 With Oracle Applications, organizations can use Data Security to manage permission assignments that control access to objects. Data Security policies can only be defined for applications that have been written to utilize the Data Security Framework. Access to the specific object must be formed with a specified Data Security Policy (also referred to as the Data Scope or Access Policy).
The Data Security Policy restricts operations so that they only can be performed on a subset of instances of the corresponding database object.
Steps

1. Log on as a user with the Functional Developer responsibility, click the Functional Developer responsibility in the navigator, navigate to the Security tab and then click the Objects subtab.
2. Search for and access the object for which you want to create data security policies.
For example, to locate the User Management Person business object (UMX_PERSON_OBJECT), enter "UMX%" in the Code field, click the Go button, and then click User Management Person object (UMX_PERSON_OBJECT) in the
search results list. For any object for which you are creating a policy, ensure that the SQL statement returns the primary key value for that object. In this example, this is a list of person party IDs.
3. Click the Object Instance Sets subtab. Click the Create Instance Set button to create a new object instance set or click the Update icon to modify an existing one.
4. Enter the required information and then click the Apply button.
http://www.oracleerpappsguide.com/wp-content/uploads/2016/09/New-Logo.png
0
0
Oracle ERP Apps Guide
http://www.oracleerpappsguide.com/wp-content/uploads/2016/09/New-Logo.png
Oracle ERP Apps Guide
2012-01-03 13:04:00
2012-01-03 13:04:00
Defining Data Security Policies