Defining Inter company Relations
Use the Intercompany Relations window to define, query, and update intercompany relations between two operating units in a multi–organization environment. These operating units are either the shipping organization and the selling organization, or the receiving and purchasing organization.
When a sales order is entered in an operating unit, the shipping organization is often part of a separate operating unit, belonging to a separate set of books. Once the sales order is shipped to the customer, the inventory asset account for the shipping organization is credited and the cost of goods sold account is debited. On the other hand, sales revenue must be recognized in the order entry organization. If the two organizations belong to different operating units, the system must perform accounting distributions to record the intercompany revenue, receivable, and payable entries.
Oracle Inventory and Oracle Receivables must be installed before you can define intercompany relations. If Oracle Payables is not installed, the fields in the AP Invoicing for Selling region are not required.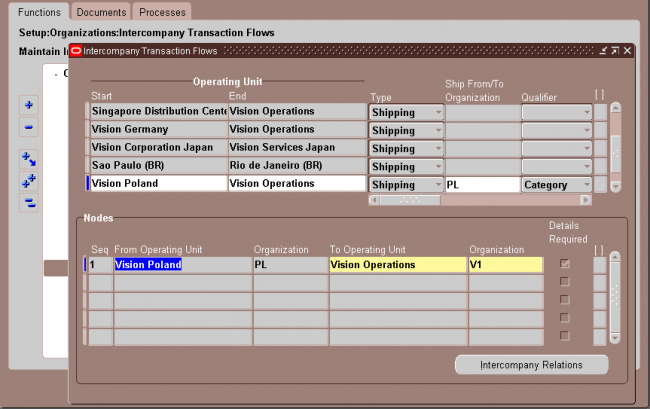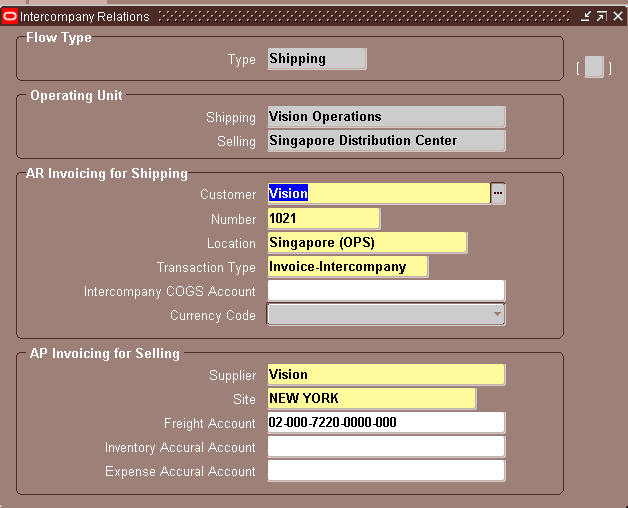 http://www.oracleerpappsguide.com/wp-content/uploads/2016/09/New-Logo.png
0
0
Oracle ERP Apps Guide
http://www.oracleerpappsguide.com/wp-content/uploads/2016/09/New-Logo.png
Oracle ERP Apps Guide
2012-01-07 14:12:00
2012-01-07 14:12:00
Defining Inter company Relations