More and more companies are doing business globally, and taking advantage of the operations and tax benefits that can be achieved by running operations throughout the world. These companies have multiple operating units and organizations around the world. When goods are shipped or received, the financial ownership through these organizations does not necessarily follow the physical movement of goods. Oracle Applications support three main logistics needs of global organizations – Central Distribution, Central Procurement and Drop Ship.
Central Procurement (P2P)
Central Distribution (IR ISO)
Drop Ship
1. External (O2C)
2. Internal (O2C)
A corporation manages its global operations in various countries through a network of subsidiaries, separate legal entities, licensees and several associated label franchisee. This complex network of operations is necessitated to take care of local legal and fiscal environment, which prevail in each of those countries.
Consider the below example:
Vision Operations (V1) is based in USA. It has a 100 % owned subsidiary company called Vision Asia (VA). VA in turn has two subsidiaries – Vision Japan (VJ) and Vision China (VC). VJ has manufacturing facilities in Osaka (O1) and distribution center at Tokyo (T1). Due to tax advantages, V1 sources all the goods from china through VJ. Though the financial transactions between V1 and VC are routed through VJ, logistic movement of goods takes place directly between V1 and VC.
Continuing the above example, Vision Operations (V1) has another subsidiary company called Vision Singapore (VS), 100 % that it owns. Individual plants procure components from their own suppliers. VS centralizes all the commodity (like steel, Aluminum etc.,) procurement needs of Vision Operations across Overview of Intercompany Invoicing 1 world and procures the material on behalf of all VJ and its subsidiary plants and places purchase orders on its suppliers. However, material is directly shipped from the suppliers to all the manufacturing plants.
Fig1
A key requirement for the global implementation of Oracle applications in such a complex business environment is the ability to process "
intercompany transactions
," where one business unit (across OUs)invoices another for transfer of goods and services. Often these intercompany transactions involve transactions related to general expenses, funds transfer, salary transfers, asset transfers, royalty payments and product transfers.
For example, the organization structure depicted in figure 1 can be modeled in Oracle applications as depicted in Figure 2.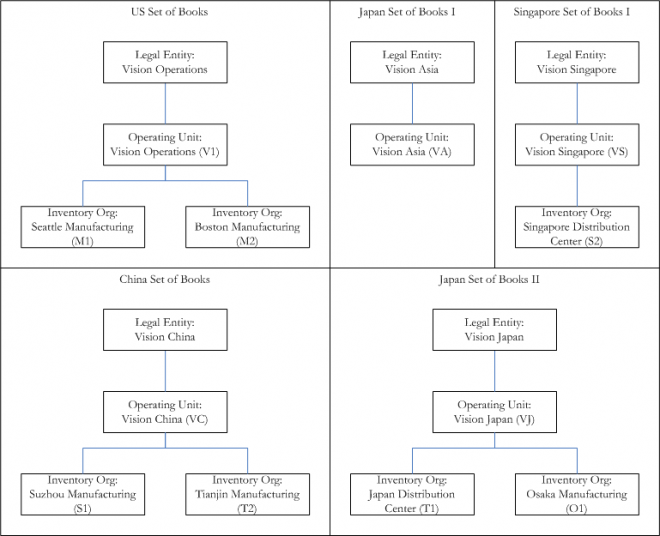 Following are the key implementation points you need to look into:
Understand the corporation business entities and the relationship between them. Identify selling-shipping relationships and procuring-receiving relationships.
Understand Oracle multi org structure and the building blocks in data structure.
Breakup the business relationships into manageable process flow and map it to various entities in Oracle applications.
http://www.oracleerpappsguide.com/wp-content/uploads/2016/09/New-Logo.png
0
0
Oracle ERP Apps Guide
http://www.oracleerpappsguide.com/wp-content/uploads/2016/09/New-Logo.png
Oracle ERP Apps Guide
2012-01-05 13:48:00
2012-01-05 13:48:00
Inter Company