The organization models in Oracle Applications define organizations, their relationships, and the transactional flow among organizational structures. With the multi-org security model, you can customize Oracle Applications according to your business needs. In this topic, you learn about features of multi-org security model.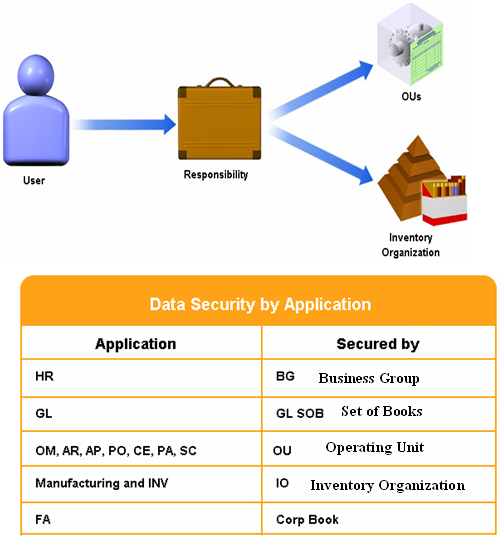 In the multi-org security model, each user within the organization is assigned responsibilities. These responsibilities are in turn attached to operating units (OUs) or inventory organizations. In this security model, the responsibility is the key because different responsibilities have distinct ways of securing the data contained in them.
For example, within general ledger (GL), data security is provided by the GL set of books (SOB). Additionally, each asset can be secured by setting up a hierarchy of asset books within an asset. Similarly, within manufacturing applications and INV, security is provided by inventory organizations (IOs) and for Fixed Assets (FA), security is provided by Corp Book.
The security for data Human Resource (HR) is implemented by the Business Group (BG). Similarly, data security for order management (OM), Accounts Receivable (AR), Account Payable (AP), Purchase Order (PO), Cash Management (CE), Project Accounting (PA), and Sales Compensation (SC) is provided by OU.
http://www.oracleerpappsguide.com/wp-content/uploads/2016/09/New-Logo.png
0
0
Oracle ERP Apps Guide
http://www.oracleerpappsguide.com/wp-content/uploads/2016/09/New-Logo.png
Oracle ERP Apps Guide
2012-01-05 13:48:00
2012-01-05 13:48:00
Multi-org Security model