Oracle Application Object Library Security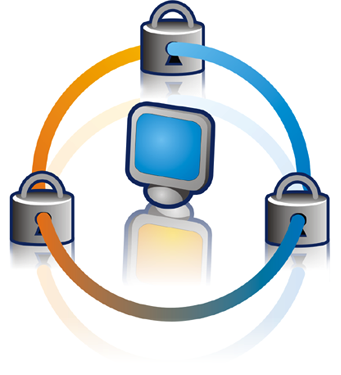 As System Administrator, you define Oracle Applications users, and assign one or more responsibilities to each user.
Defining Application Users

You allow a new user to sign-on to Oracle Applications by defining an application user. An application user has a username and a password. You define an initial password, then the first time the application user signs on, they must enter a new (secret) password.
When you define an application user, you assign to the user one or more responsibilities.
Responsibilities Define a User's Context
A responsibility provides a context in which a user operates. This context can include profile option values, navigation menus, available concurrent programs, and so on.
For example, a responsibility can allow access to:
A restricted list of windows that a user can navigate to; for example, a responsibility may allow certain Oracle Planning users to enter forecast items, but not enter master demand schedule items.
A restricted list of functions a user can perform. For example, two responsibilities may have access to the same window, but one responsibility's window may have additional function buttons that the other responsibility's window does not have.
Reports in a specific application; as system administrator, you can assign groups of reports to one or more responsibilities, so the responsibility a user choose determines the reports that can be submitted.
Each user has at least one or more responsibilities, and multiple users can share the same responsibility. A system administrator can assign users any of the standard responsibilities provided with Oracle Applications, or create new custom responsibilities if required.
HRMS Security
The Human Resources Management Systems (HRMS) products have an additional feature using Security Groups.
http://www.oracleerpappsguide.com/wp-content/uploads/2016/09/New-Logo.png
0
0
Oracle ERP Apps Guide
http://www.oracleerpappsguide.com/wp-content/uploads/2016/09/New-Logo.png
Oracle ERP Apps Guide
2012-01-04 13:06:00
2012-01-04 13:06:00
Oracle Application Object Library Security