Defining a Responsibility in R12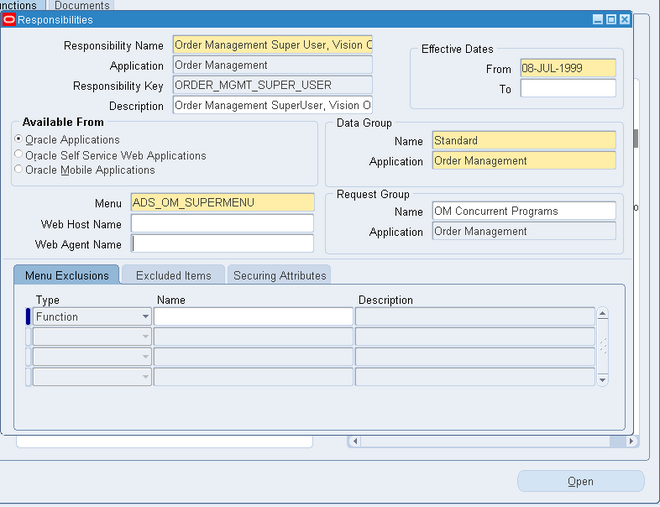 When you define a responsibility, you assign to it some or all of the components described below.
1.
Menu (Required)

A menu is a hierarchical arrangement of application functions (forms). In the definition of a responsibility, the specified menu defines what is displayed in the navigator. The specified menu does not necessarily define the functions that can be accessed by the responsibility, which are granted.
2.
Data Group (Required)

A data group defines the mapping between Oracle Applications products and ORACLE database IDs. A data group determines which Oracle database accounts a responsibility's forms, concurrent programs, and reports connect to.
Oracle Application Framework functionality does not support data groups.
For almost all cases, you should accept the default value in defining a responsibility.
3.
Function and Menu Exclusions (Optional)

A responsibility may optionally have function and menu exclusion rules associated with it to restrict the application functionality enabled for that responsibility
4.
Responsibilities and Request Security Groups
Note: The Request Security Groups feature is for backward compatibility only.
When a request group is assigned to a responsibility, it becomes a request security group.
From a standard submission form, such as the Submit Requests form, the choice of concurrent programs and request sets to run are those in the user's responsibility's request security group.  If you do not include the Submit Requests form on the menu for a responsibility, then you do not need to assign a request security group to the responsibility.
Responsibilities and Function Security

Oracle Applications architecture may aggregate several related business functions into a single form. Parts of an application's functionality may be identified as individual Oracle Applications functions, which can then be secured (i.e. included or excluded from a responsibility).
http://www.oracleerpappsguide.com/wp-content/uploads/2016/09/New-Logo.png
0
0
Oracle ERP Apps Guide
http://www.oracleerpappsguide.com/wp-content/uploads/2016/09/New-Logo.png
Oracle ERP Apps Guide
2012-01-04 13:07:00
2016-09-18 09:24:15
Defining a Responsibility in R12