Adding a New Operating Unit
The following steps are required to add new operating units to your organizational structure:
1.1 Revise the Organization Structure.
1.2 Define Sets of Books (optional).
1.3 Define Locations.
1.4. Define Organizations and Relationships.
2.1 Define Responsibilities.
2.2 Set Profile Options for Each Responsibility linked to the new Operating Unit.
1.1. HR: Business Group
1.2 HR: Security Option
1.3: HR: User Type (FOR accessing HRMS functions)
1.4 HR: Cross Business Group
2.1. GL: Set of Books(11i)
2.1 GL:%Ledger% (R12)
2.3 GL: Data Access Set. This profile option to control the ledgers that can be used by Oracle General Ledger.
3.1. MO: Operating Unit
3.2. MO: Security Profile (R12)
3.3. MO: Default Operating Unit
4.1 Tax: Allow Override of Tax Code
4.2 Tax: Invoice Freight as Revenue
4.3 Tax: Inventory Item for Freight
5.1 Sequential Numbering
5.2 INV: Intercompany Currency Conversion
2.3 Run the Replicate Seed Data concurrent program.
3.1 Define Inventory Organization Security.
3.2 Define Intercompany Relations (optional).
3.3 Implement the Application Products.
4.1 Secure Balancing Segment Values (optional).
4.2 Run the Setup Validation Report (recommended).
4.3 Implement Document Sequencing (optional).
4.4 Set the top reporting level (optional).
4.5 Set up conflict domains (optional).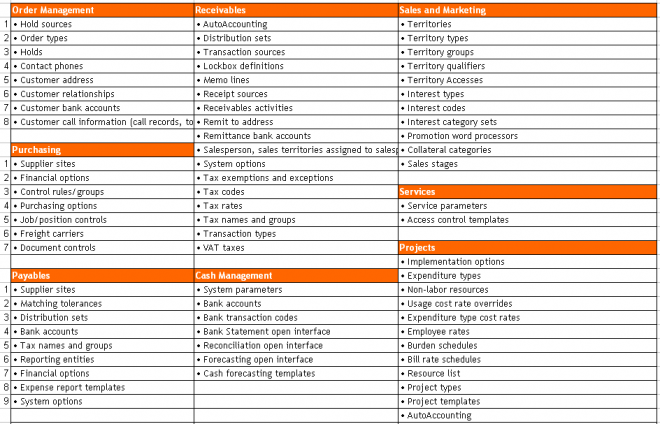 http://www.oracleerpappsguide.com/wp-content/uploads/2016/09/New-Logo.png
0
0
Oracle ERP Apps Guide
http://www.oracleerpappsguide.com/wp-content/uploads/2016/09/New-Logo.png
Oracle ERP Apps Guide
2012-01-05 13:40:00
2012-01-05 13:40:00
Setting up Multi Org R12