Cross–reference types define relationships between items and entities such as
old item numbers or supplier item numbers
. For example, you can create a cross–reference type Old to track the old item numbers, and a type Supplier to track supplier part numbers.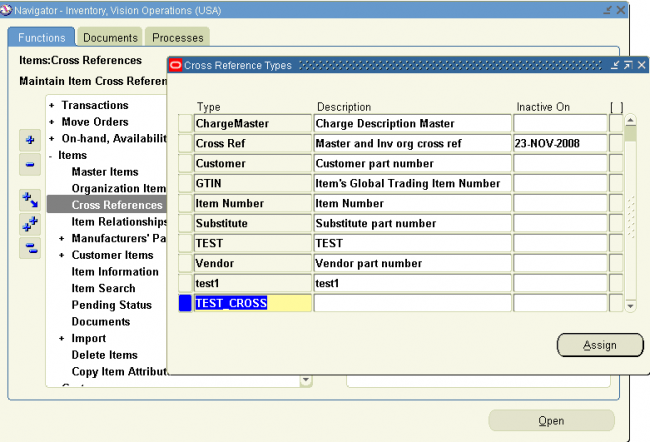 Navigate to INV : Items -> Cross reference , Enter a unique cross–reference type name and save it.
Click on Assign an old/supplier item and its corresponding inventory item.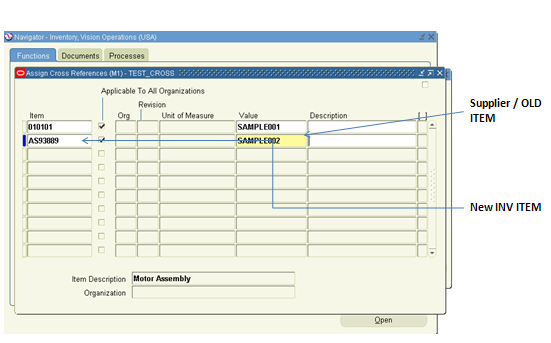 1. item in cloumn1 represents a current inventory item
2. Indicate whether the cross–reference applies only in the specified organization or to all organizations to which the item is assigned
3. Enter a cross–reference value. This value is the entity you cross–reference to the item, such as its old item number or supplier part number.
Cross reference can also be attached from tools in item master
http://www.oracleerpappsguide.com/wp-content/uploads/2016/09/New-Logo.png
0
0
Oracle ERP Apps Guide
http://www.oracleerpappsguide.com/wp-content/uploads/2016/09/New-Logo.png
Oracle ERP Apps Guide
2012-01-08 20:59:00
2016-09-22 12:20:43
Cross–Reference Types