The
User Item Type item attribute is a QuickCode you use when you define an item
. You can use the types provided by Oracle Inventory or create your own.
Setup Steps
1. Navigate to the Item Type QuickCodes window. The User access level is selected indicating you can add or modify QuickCodes without restriction.
2. Enter a unique alphanumeric code describing the item type. You can define a maximum of 250 QuickCodes for a single QuickCode type.
You cannot change the values in this field after saving them. To remove an obsolete QuickCode you can either disable the code, enter an end date, or change the meaning and description to match a replacement code.
3. Enter the meaning of the item type. Inventory uses this value in the list of values for the User Item Type item attribute in the Items window.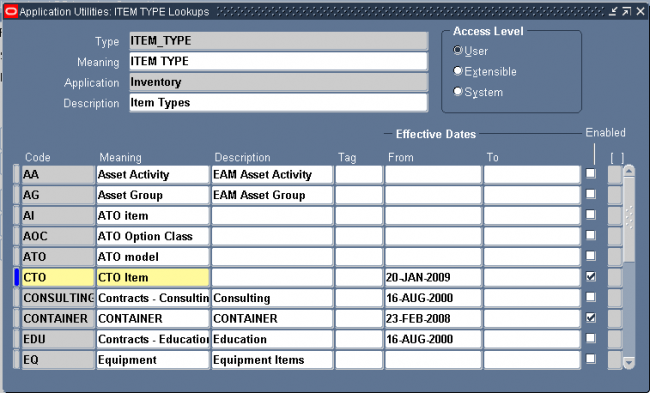 http://www.oracleerpappsguide.com/wp-content/uploads/2016/09/New-Logo.png
0
0
Oracle ERP Apps Guide
http://www.oracleerpappsguide.com/wp-content/uploads/2016/09/New-Logo.png
Oracle ERP Apps Guide
2012-01-08 20:58:00
2012-01-08 20:58:00
Defining Item Types